Jailbreaking your iPhone became legal under US copyright law as of July 26, 2010. What better way to celebrate than try to jailbreak my own iPhone 4?
To jailbreak your iPhone, visit http://www.jailbreakme.com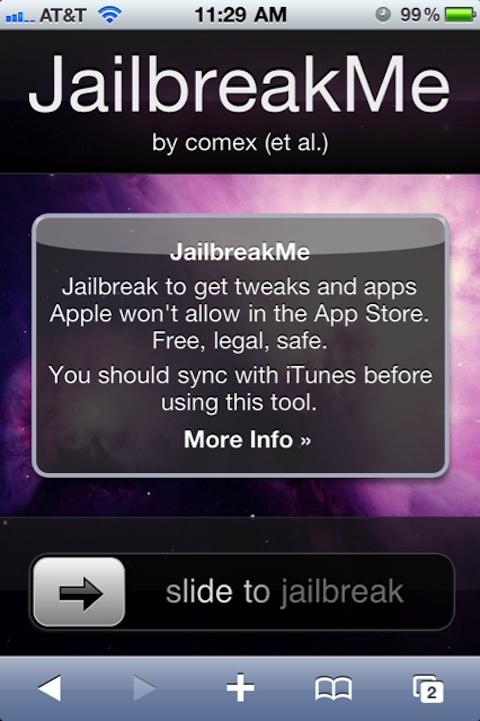 and you can literally slide a UI control in safari and it will jailbreak your phone by taking advantage of an PDF exploit in iOS.  This method works as long as you haven't upgraded to iOS 4.0.2 since Apple patched the hole in that release.
Note: Jailbreakme.com is currently showing a placeholder page on their homescreen. Navigate on your iPhone to http://www.jailbreakme.com/_/ and you can manually download the PDF that matches your device and iOS version.  Once you click the PDF, it'll pause for a few seconds, then you'll see UI that informs you your iPhone is being jailbroken.
After jailbreaking, the obvious question is "Now what?".  I was on the hunt to find the best apps to uninstlal to take advantage of my new found freedom away from Apple's maniacal clutches.
Browsing through Cydia is a painful process – there are no "Top 10" lists or anything to really help you figure out what to install, and even worse, the load time on the details pages for each app is slow as molassess.  Instead, I started doing some web searches to find which apps to try out first.
Here's the list of apps I ended up installing, and I even paid for a few of them:
InfiniFolder – allow unlimited apps in iPhone folders.  So instead of creating folders named "Games 1", "Games 2", etc, this allows you to have as many apps in a folder as you want and lets you vertically scroll.
MultiIconMover – From the department of "Why didn't apple think of this?".  When you move app icons around, it lets you multi select and move multiple apps at the same time.
IntelliScreen – This was my favorite jailbreak app of everything I installed.  It adds widgets to your lock screen like calendar, latest SMS and news and ironically makes it more like Windows Mobile. This screenshot shows news and weather, but I've configured mine to show my calendar also.
Action Menu and Action Menu Plus Pack – Awesome addons that puts the "action menu" on steroids (the action menu is the menu that appears when you do a single tap in a text field. Normally this only shows "copy", "cut" and "paste).  This adds things like a clipboard history, send to twitter and create tinyURLs.
SBSettings and Serious SBSettings HD Theme – Solves a major gripe with the iPhone – "Why the heck does it take so many clicks to change settings???".  In a single click you get a menu that slides down an dwill let you toggle wifi, 3g, etc in single clicks!  Make sure you get the Apple Congruency addon, which make it look more like native iPhone UI. Update (8/26): Thanks to Todd in the comments, I discovered the "Serious SBSettings HD Theme" which supports the iPhone 4 Retina display and looks better than the Apple Congurency theme.
My3G – removes the restrictions on apps that prevent them from using data on 3G like FaceTime, and iTunes downloads over 20MB.
Tlert (added 8/26) – Great system wide change to improve SMS. When you get an SMS while in another app, you can respond without leaving the app!
Any other ones I'm missing?